Biography
Perhaps I felt accustomed to metal working from my early years, watching my uncle in the blacksmith shop on the Manitoulin farm, or my dad, always fixing something in his basement workshop. So tinkering with metal in a workshop seemed natural to me.
But it was many years later that I first explored making metal jewellery while living in Europe. I was intrigued by the exceptional designs and quality of European goldsmiths. To me their pieces looked like tiny works of art... and so my fascination began.
This respect for the skills of traditional goldsmiths is complimented by my deep admiration of our natural world and the artistry found there. From my early years growing up in Deep River, in northern Ontario. I spent much time exploring the woods and rivers in the area, and felt a sense of wonder in the effects of the changing seasons. My curiosity with the natural world led me to first pursue a scientific career, studying biochemistry and doing research in Canada and the Netherlands. Despite a demanding research/business career, I took several jewellery making classes from goldsmith Ed Favery at the Open University in Breukelen, the Netherlands. After some 16 years abroad, I returned to Canada and embarked in a new direction.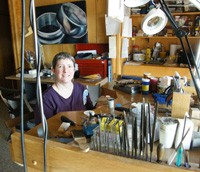 I began to explore my interest in making jewellery in more depth. I studied jewellery arts at the Haliburton School of the Arts, completing my certificate in 2005, then started up my home studio, which I share with artist Rob Niezen. Encouraged by people's reactions to my work, I began exhibiting my work at a number of shows and outlets throughout Ontario, including over ten years on the Kawartha Autumn Studio Tour. Since 2008, I have been teaching jewellery classes and workshops at the Art School of Peterborough, and enjoy giving students the opportunity to learn traditional goldsmith skills in a time-honoured way.